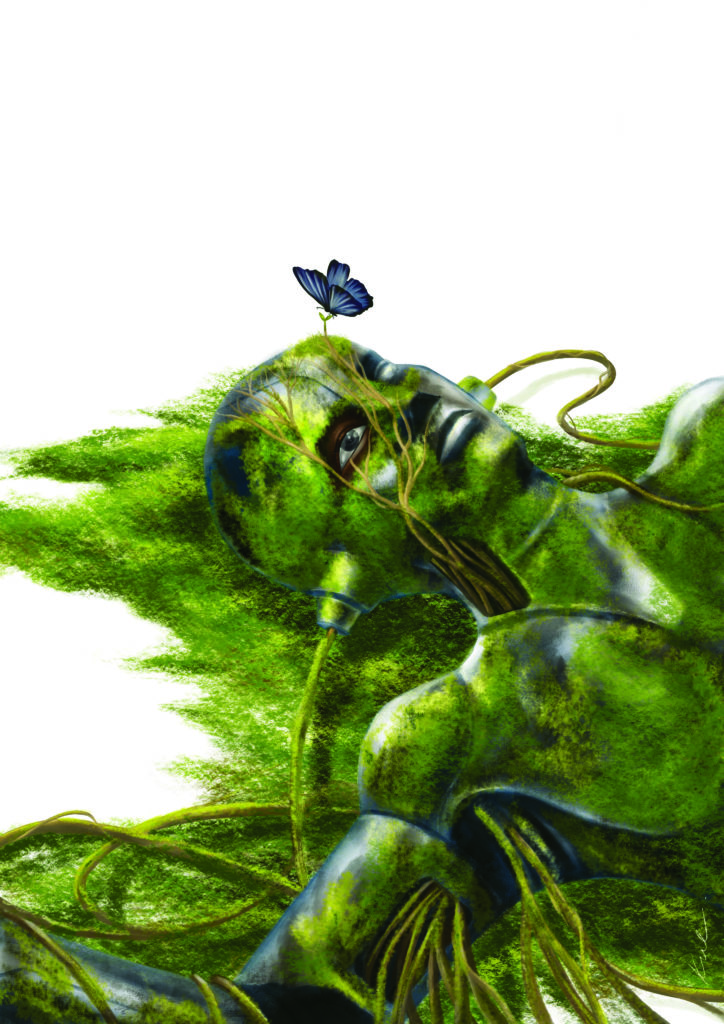 Der Volleksbühn hiren neie Projet De Bësch ass eng immersiv Outdoor Experienz, en Hybrid tëscht Nuetsrallye an Theaterstéck. D'Welt an déi mer andauchen ass labber inspiréiert vu Lord of the Flies an The Matrix a schéckt d'ZuschauerInnen op eng sënnlech a verspillte Reess, di grouss metaphysesch Themen, déi d'Mënschheet schonn ëmmer beschäftegt hunn an déi haut méi aktuell si wi je, ze exploréieren: Wat ass Wourecht? A wéienger Realitéit wëlle mer liewen? Gëtt et e fräie Wëllen oder ass Choix just eng Illusioun?
De Bësch erzielt keng Geschicht am klassesche Sënn, mat Ufank, Héichpunkt an Enn. D'ZuschauerInne gi vill méi Deel vun engem fiktive, mee tactille Microcosmos, dee si op ege Fauscht exploréiere kënnen. Si dauche voll an d'Welt vum Bësch an a gi, jidderee fir sech an a sengem Tempo, Spueren no, begéine Personnagen, déi se vlait an e Geheimnis aweien, kënnen hir Entdeckungen mat aneren deelen a si mat deenen nämlechte Froe konfrontéiert, wéi d'Personnagen.
Volleksbühn's new project De Bësch (The Forest) is an immersive outdoor experience, a hybrid between a scavenger hunt and a theatre play. The world we dive into is loosely inspired by Lord of the Flies and The Matrix and sends the audience on a quest to sensually explore the big metaphysical themes that have always preoccupied humanity and that have become more pressing today than ever: What is truth? What reality do we want to live in? Do we really have free will or is choice just a mere illusion?
De Bësch does not tell a story in the classical sense, with a beginning, middle and end, but rather offers an immersive theatre experience where the audience explores a fictional but tactile world on their own, follow the characters that interest them and that might let them in on a secret, discover hidden clues, share their knowledge with others, all the while confronted with the same questions the characters are faced with. 
CAST & CREW
Based on an original idea by Max Jacoby & Anne Simon
Devised by the company 
Text & Direction: Max Jacoby & Anne Simon
Artistic Collaboration: Jacques Schiltz
Set & Costume Design: Ágnes Hamvas
Lighting Design: Nina Schaefer
Music: Plastiklova (Yu Oda & Laurent Warnier)
Production: Karoline Maes
With: Jil Devresse, Denis Jousselin, Rosalie Maes, Dominik Raneburger, Konstantin Rommelfangen, Pitt Simon.
COPRODUCTION: 
Volleksbühn, Kinneksbond, Centre Culturel Mamer, CAPE-Centre des Arts Pluriels Ettelbruck, KUFA Esch, Aalt Stadhaus, Differdange, Trifolion Echternach, Kulturhaus Niederanven, Prabbeli Wiltz, Artikuss Zolwer, Mierscher Kulturhaus 
De Bësch is a multilingual performance (LU, EN, FR, DE)
De Bësch is an immersive, walk-through experience in a forest. We kindly ask you to wear appropriate clothing and footwear and respect the environment. Buses will take the audience from the theatres to De Bësch (recommended). You can also make your way there by car. Please indicate your preference when booking your tickets. Additional information and guidelines will be provided via email after your ticket purchase and closer to the performance dates.
Meeting/Departures at the respective theatres at approximately 6.30pm, or, if you come by car, at the location at approximately 7pm
Kuelespaacher Bësch, Niederanven
(Departures from: Echternach, Mamer, Niederanven) 
(Departures from: Soleuvre)
(Departures from: Ettelbruck, Mersch Wiltz)
Tickets are also available at the participating venues' box offices.
Tickete ginn et ausserdeem bei den Haiser, déi um Spektakel bedeelegt sinn. 
Due to the terrain and the physical nature of the experience, the performance is not suitable for people with reduced mobility. Recommended age: 15+
With the support of Ministère de la Culture & Oeuvre de Secours Grande Duchesse Charlotte